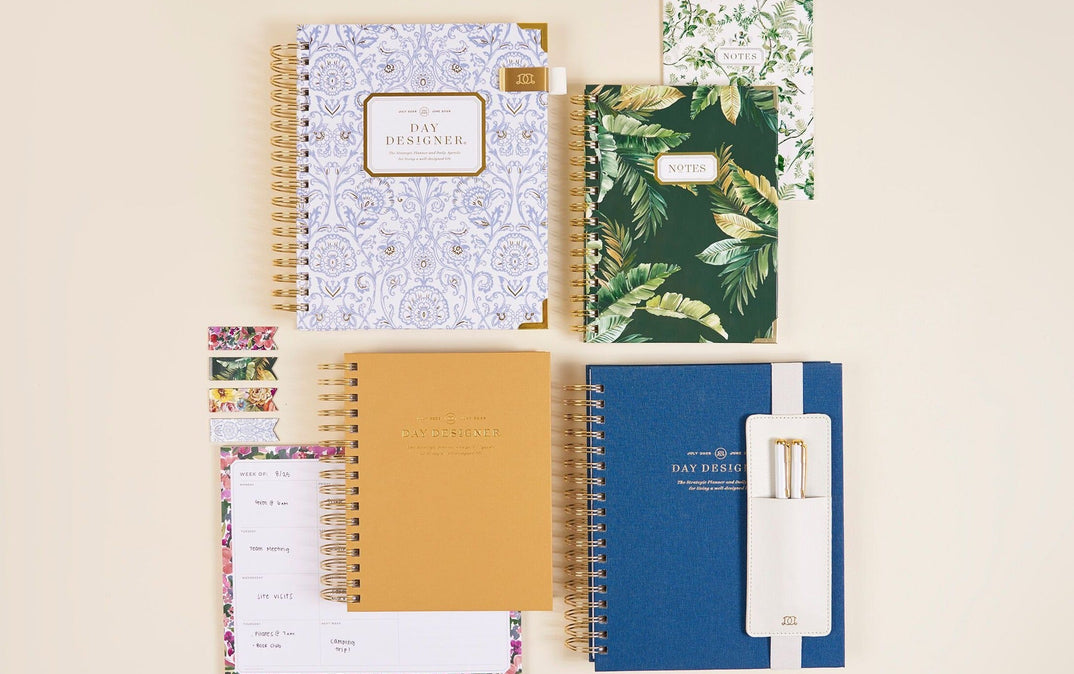 Shop Planners and Accessories
We're on a mission to get you organized and on your way to living an intentional, meaningful and well-designed life. 
Day Designer® is a planning system created to help busy people find balance, focus and productivity.
Shop Planners and Accessories
Day Designer Planners and Accessories
Our Day Designer® planning system, renowned for its ability to bring balance, focus, and productivity into the lives of busy people, extends beyond just planning. It creates an environment that facilitates mindful living. With our range of planner accessories, you can amplify your planning experience, making it not just functional but also enjoyable and distinctly personal.
Our functional yet beautiful planner collection features both daily and weekly planners in two popular sizes. The Original Size planner, with dimensions of 9" wide x 9.75" tall x 1.5" depth, provides ample writing space for capturing details. Our Daily Mini planner with a smaller size of 6.625" wide x 8.3" tall x 1.5" depth, is more compact for more minimal planning and portability.
To complement our daily and weekly planners, we also offer the best planner accessories. From bookmarks to sticky notes, our accessories aim to enrich your planning experience, adding a touch of personalization and convenience. Whether it's color-coding your tasks or bookmarking essential dates, our accessories will ensure you stay on top of your game.
FAQs about our Planners and Accessories
Which size planner would best suit my needs?
This largely depends on your personal preferences and lifestyle. If you have a lot to plan or prefer having a lot of white space, the Original Size planner would be ideal. If portability is a priority and you need a planner that can easily fit into your bag, the Mini Size would be perfect.
How do the daily and weekly planners differ?
Our daily planners provide a page for each day, including weekends, allowing you to jot down detailed tasks, appointments, and notes. Weekly planners, on the other hand, give you an overview of your week, perfect for planning out broader tasks and events.
What are the best planner accessories to enhance my planning?
Accessories like bookmarks, sticky notes, and planner bands can greatly enhance your planning experience. These tools help you quickly access important pages, highlight critical tasks, and keep your planner neat and tidy.
Can I use the Day Designer planners for both professional and personal planning?
Absolutely! Our planners are designed to accommodate both personal and professional commitments, helping you maintain a balance between work and life.
How durable are the Day Designer planners?
Both our Original and Mini Size planners come with a durable glossy hardcover designed to withstand daily use and travel, ensuring your planner stays in perfect shape for as long as you need it.
Learn more about Planning: