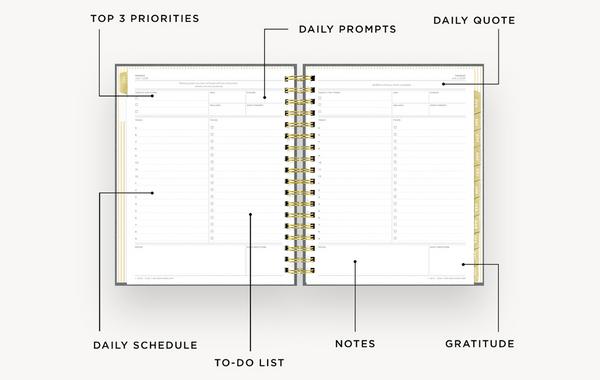 2023-24 Academic Year Daily Planner
The original daily planner combines a to-do list, schedule, priority, gratitude and more! July 2023 through June 2024
2023-24 Academic Year Daily Planner
Day Designer Academic Year Planner 2023-24
Imagine a tool that not only organizes your life but also inspires you to make the most of every day. Meet the Day Designer academic year planner 2023-24 - a testament to our commitment to helping individuals craft a well-designed life. Organizing is more than just listing tasks; it's about aligning your daily actions with your broader life goals. This planner makes it possible.
Starting from July and stretching until June of the following year, our daily planner academic year edition has been meticulously designed for students, educators, professionals, and anyone with an academic timeline in mind. But what makes this planner stand out?
Every day is an opportunity, a fresh start. With daily planning pages that include hourly scheduling from 5 am to 9 pm, you're not just jotting down tasks but truly scheduling your day. Each day is complemented with prompts such as "Today," "To-Do," "Dinner," "Gratitude," and "Top 3 To-Dos", helping you prioritize and stay grounded. Infuse your day with positivity through our daily inspirational quotes and, at week's end, get an overview with our combined weekend pages.
The academic year planner for 2023-24 isn't just about today or tomorrow; it's about the bigger picture. With two-page monthly and yearly overviews, U.S. holidays marked, and a 2023-2024 holiday reference calendar, planning for the long term becomes second nature. Your goals are important, and our goal setting worksheets are just the place to outline and track them. And, because we understand that life isn't only about tasks, we've included a special birthdays and important days checklist.
Constructed with a durable glossy hardcover and enriched with a lilac liner, this planner is not only functional but also aesthetically appealing. The removable bookmark ruler, inside front cover pocket, and tear-out pages for added protection make this more than just a planner; it's a daily companion that understands your life's demands.
The benefits of being organized go beyond ticking off tasks. An organized life leads to clearer thoughts, higher productivity, reduced stress, and most importantly, more time for what truly matters. Begin your journey to a well-organized academic year with the Day Designer mid-year academic planner.
FAQs about our Academic Year Planner 2023-24
How does this academic year planner differ from the weekly version?
The academic year daily planner edition offers a detailed day-to-day breakdown, allowing for meticulous planning and tracking. It's perfect for those who require a more comprehensive look at each day, as opposed to a broader weekly overview.
Can this planner withstand daily wear and tear?
Absolutely! With its durable glossy hardcover and tear-out pages at the front and back for added protection, it's designed to be your daily companion throughout the academic year.
How does the hourly scheduling work in the planner?
Our daily planning pages allow for hourly scheduling from 5 am to 9 pm, letting you allocate time for specific tasks, classes, or activities. This ensures you stay on track throughout the day.
What additional features does the planner offer for goal setting?
We have incorporated goal-setting worksheets to help you outline, track, and achieve your dreams. This encourages aligning daily tasks with broader life goals.
Are there any spaces or prompts for personal reflection in the planner?
Yes, we've included sections like "Gratitude" and "Top 3 To-Dos" which not only aid in planning but also in reflecting upon and prioritizing aspects of your life.
Learn More about Planning: