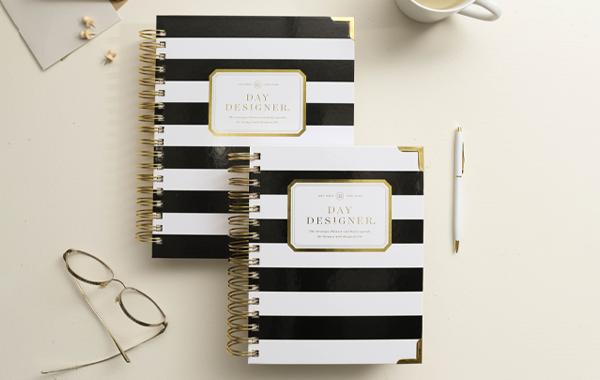 Weekly Planners
Visualize your week with our deluxe weekly planning system! Offered in two date ranges per year and two sizes.
All-in-one planner with monthly and weekly calendars plus daily planning pages! January through December
---
All-in-one compact planner combines monthly and weekly dated calendars with daily planning pages! January through December
Day Designer Weekly Planner
The Day Designer Weekly Planner is our most versatile planner, packing daily planning pages, week at a glance and tabbed monthly calendar together for an all in one planning solution! It is an effective tool for setting goals, long term planning, daily schedule to-do list, notes, expenses and more. The Day Designer Weekly Planner offers the perfect blend of functionality and versatility.
Our weekly planners provide a weekly planner layout with an overview of your plans and to-do list for the week. Sections for priorities, checkboxes for to-do list and schedule allows you to visualize the week ahead. It is perfect for busy people with meetings, and appointments because you can see your entire week in one view. This unique combination of features allows you to strategize your time effectively while giving equal importance to your tasks.
In addition to the weekly dated planning pages, this deluxe weekly planner includes goal setting worksheets, daily planning pages, notes, expenses and life planning templates. Each weekly planner features a durable hardcover ensuring longevity and resistance to everyday wear and tear. Cover designs come in a range of aesthetic options, from colorful florals to minimalist linen. Interior pocket, stickers and clear bookmark ruler enhance the functionality of each planner.
Day Designer planners come in two date ranges each year. The Academic Year version runs from July 2023 to June 2024. It's perfect as a student planner, teacher planner, parent planner, or for anyone operating on an academic schedule. We also offer the weekly planner in a standard calendar format which runs from January to December each year.
The Weekly Planner is offered in two sizes, the Original and Mini. The two size options offer versatility to choose what suits your lifestyle and requirements. The larger Original size offers plentiful clean writing space on its functional planner pages. The Mini offers the same layout in a more compact size that can fit in a purse or tote bag.
In addition, each planner comes in a white glossy drawer box that can be repurposed for desk storage, and a stunning mint green shipping box which opens to a welcoming message and striking gold stripe design.
Whether you're a student juggling academic and extra-curricular activities, a professional balancing meetings and project deadlines, or a homemaker organizing daily chores and appointments, our weekly planners are tailored to simplify your life, more organized and less chaotic.
FAQs about our Weekly Planner
How can the Day Designer Weekly Planner benefit my daily routine?
Our weekly planner is designed to simplify your life. It offers a comprehensive view of your week, allowing you to schedule tasks, appointments, and events efficiently. It can help improve productivity, reduce stress, and ensure nothing important is forgotten.
How durable is the Day Designer Weekly Planner?
Our weekly planners come in either a glossy or linen-finish fabric hardcover that is both stylish and durable, designed to withstand daily use. Its sturdy construction ensures your planner remains in prime condition throughout the year.
Is the Day Designer Weekly Planner portable?
Yes, despite its comprehensive layout and robust hardcover, it can be conveniently carried in your bag.
What makes the Day Designer Weekly Planner stand out from other planners?
The Day Designer weekly planner is the only weekly planner that combines monthly, weekly and daily planning pages with sections for notes, goals, expenses and more. It is truly the most functional and versatile weekly planning system. In addition, Day Designer provides an empowering and inspiring planning experience like no other with its elevated design, beautiful patterns and signature packaging.
Learn more about Planning: