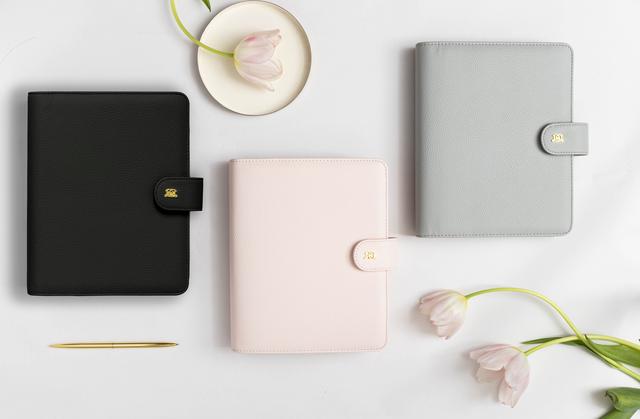 A5 Luxe 6-Ring Refillable Planners
With our 6-ring A5 planners and insert packs, you can customize and update your planner year after year!
A5 Luxe 6-Ring Refillable Planners
Day Designer A5 Planners
When it comes to planning, everyone's approach is as unique as they are. Some of us relish meticulously noting down every task, while others want plenty of white space for spontaneous ideas and reflections. And then, there are the considerations of size and portability. Do you carry your planner around with you or keep your planner in a special place at your desk? These personal considerations can help determine the planner that will best serve you.
The best-selling Day Designer A5 6-Ring Refillable Planner is an ideal solution for those seeking flexibility, storage and style in a compact size. These A5 planners, complete with a ring binder notebook, blend convenience and functionality. In addition, each comes with a Starter Pack to begin planning right away.
An A5 planner is uniquely adaptable. With a 6-ring binder system, you can easily add, remove, or rearrange pages according to your evolving needs. It's a dynamic space designed to mold to your personal and professional requirements.
Furthermore, an array of A5 planner accessories can be used to enhance your planning experience. From dividers and pockets to bookmarks, our accessories serve both functional and decorative purposes, adding a touch of personalization to your planning journey.
Each Day Designer A5 Planner looks beautiful while providing optimal protection for your planner. Crafted from high-quality vegan leather with a soft pebble finish, it features shiny gold interior rings, magnetic strap closure and interior pockets for paper storage. It's not just about planning your day; it's about doing so with elegance and style.
In essence, our A5 Luxe 6-Ring Refillable Planners are more than just a tool to organize your tasks. They're a curated space to map your journey, record your achievements, and plan for an exciting future. Begin your journey today with our A5 Luxe Planners.
FAQs about our A5 Luxe 6-Ring Refillable Planners
What size are the Day Designer A5 Luxe 6-Ring Refillable Planners?
Our A5 Planners are designed to be both compact and practical. The overall dimensions of the planner are 7.5 inches in width, 9.375 inches in height, and a depth of 1.75 inches (Including the Starter Insert Pack).
How can I best utilize the A5 Luxe 6-Ring Refillable Planner?
Our A5 planner's 6-ring binder allows you to customize your planner to fit your specific needs. You can add, remove, and rearrange pages as needed. It is an investment that can be used for years. You can also make use of our range of A5 planner accessories to further enhance your planning experience.
How should I organize my A5 Luxe 6-Ring Refillable Planner?
The beauty of our A5 Luxe Planner is its flexibility. You can categorize it by date, task, or topic, depending on your preference. You might use dividers for different areas of your life, like work, personal, and hobbies.
Can I personalize my A5 Luxe 6-Ring Refillable Planner?
Absolutely! Our A5 planner accessories include a range of decorative and functional additions, allowing you to make your planner truly personal. From stylish dividers to convenient pockets, you can design your planner to reflect your individual style and needs.
Learn more about A5 Luxe Planners: