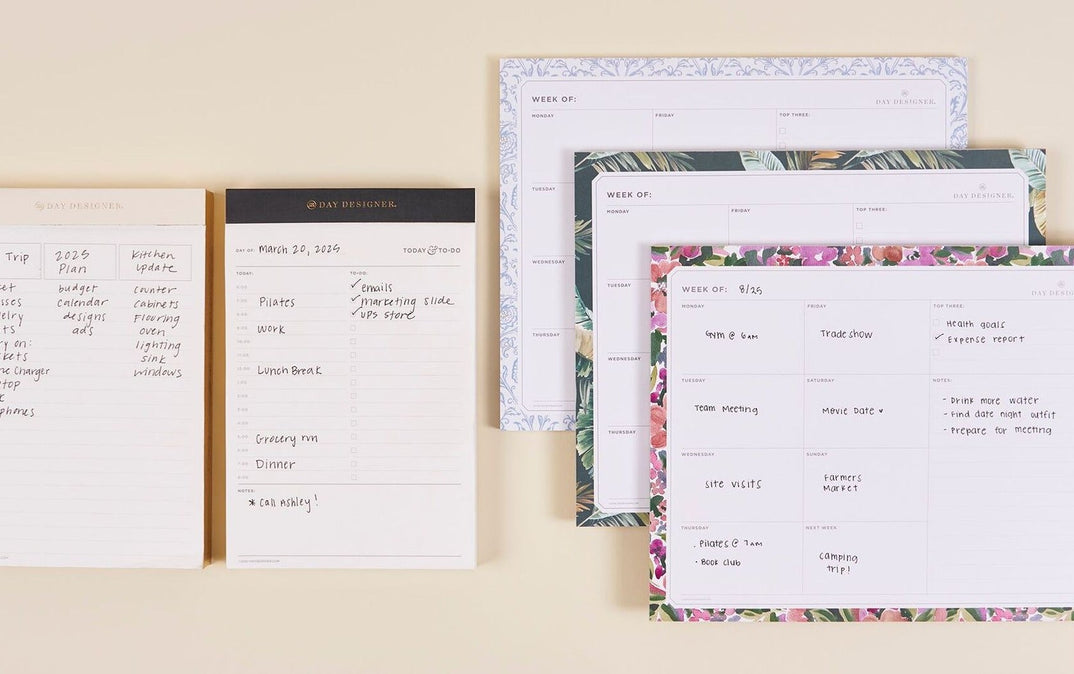 Planner Pads and Notepads
Keep track of the details of your busy life with our handy planning pads and notepads! Shop a variety of formats and styles.
Planner Pads and Notepads
Day Designer Planner Pads and Notepads
Day Designer is delighted to bring you our selection of Planner Pads and Notepads, an essential collection for individuals aiming to live a more organized, productive, and intentional life. Whether you're an organizer or prefer spontaneous jotting, our extensive range of notepads and planner pads has been curated to cater to your unique needs.
In an era of digital proliferation, there's a tangible satisfaction in the act of writing that's lost amidst the taps and swipes of our devices. Personal notepads foster this traditional experience, offering a serene platform for reflection, ideation, or simply listing. Our lined notepads, with their clean layouts, are the perfect companions for these endeavors, helping you to structure your thoughts clearly and logically.
Incorporating the same core design values as our flagship planner, our personalized notepads elevate the note-taking experience. With these, you have the liberty to create a notepad that reflects your personal aesthetic, acting as a mirror of your individuality while serving a practical purpose.
You'll also find the same commitment to quality, design, and functional excellence in our planner pads, embodying the Day Designer philosophy of 'living well, planning well.' As your partner in planning and organization, we aim to make your journey smoother and more fulfilling. Thus, each page in our notepads, whether it's for lists or personalized notepads, is designed to assist you in achieving balance, focus, and productivity.
Our commitment extends to the promise of durability and style, ensuring that each notepad in our collection withstands the test of time and becomes an indispensable tool in your everyday life.
FAQs about our Planner Pads and Notepads
Are your notepads designed for specific tasks, or can they be used generally?
While our notepads are versatile and can cater to a wide range of tasks, we do offer specialized formats like notepads for project planning and lined notes. These are designed to enhance your productivity in specific contexts.
How portable are your small notepads?
Our small notepads are designed with portability in mind. Compact yet roomy, they're perfect for on-the-go note-taking, fitting easily into your bag or pocket. Notepad Dimensions:
Overall Dimensions: 5.25" wide x 8" tall
Page Dimensions: 5.25″ wide x 7.25″ tall
Planner Pads: 10" width x 8" length.
Are the Planner Pads and Notepads durable?
Absolutely! Our Planner Pads and Notepads are made with high-quality materials to ensure they are durable and can withstand regular use. They're designed to be a long-lasting tool in your planning journey.
Learn more about Planning: