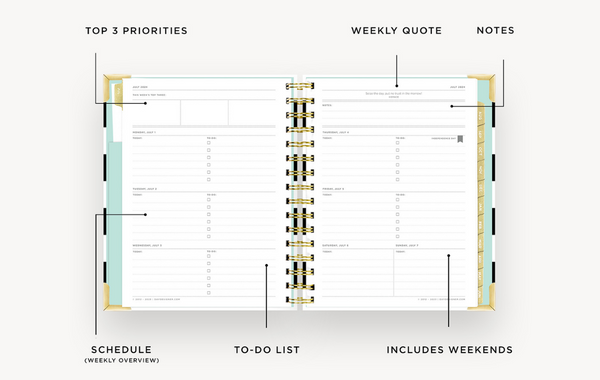 2024-25 Academic Year Mini Weekly Planners
Our deluxe weekly planner in a compact size! Dated July through June.
2024-25 Academic Year Mini Weekly Planners
Sorry, there are no products in this collection
2024-25 Academic Year Mini Weekly Planners
Day Designer was born in 2010 from a vision that life could feel more rewarding and less stressful. Since that first collection, Day Designer products have become trusted tools for thousands of busy people who aspire to live with intention and style.
Created to guide users from overwhelmed to organized, each planner guides users to achieve their goals, prioritize their to-do lists and manage their busy schedules. Day Designer deluxe weekly planners feature monthly, daily and weekly planning formats to support long term planning, weekly scheduling and detailed daily planning.
With weekly and monthed dated calendars that run from July 2024 to June 2025, this planner is perfect for busy students, teachers and parents who plan their lives based on the academic year calendar.
Each planner offers a page with plenty of writing space so you can easily visualize your plans. The planner itself is 6.625″ wide x 8.3″ tall x depth: 1.25" (including the binding). The page dimensions are: 6″ wide x 8.125″ tall.
The dated planning pages include two-page monthly calendars with a Monday start day for each week, two-page 2024-2025 reference calendar and two-page weekly overview pages with sections for priority, notes and inspirational quotes. In addition to dated planning pages, this planner also offers undated daily planning pages, expense tracker, notes pages and life planning worksheets. including 2 Favorites Lists, 2 Gift Idea Pages, 2 Thank You Note Records, 2 Packing Checklists, 2 Entertaining Checklists and 4 Bucket Lists.
Planning pages are simple and minimal in soft gray for functional planning. Interior storage pocket, clear snap in bookmark ruler and gold stickers provide functionality and storage. Thick paper reduces bleed through and durable laminated gold tabs help you find your place.
The durable hardcover comes in multiple designs to match your aesthetic and preferences. Gold details like date stamp, protective gold corners and wire binding add to the luxury feel but also stand up to frequent use. Beautiful mint shipper and white storage box protects the planner when shipped and offers storage for years to come.
Whether you're a student juggling classes and extracurriculars, a teacher managing a class schedule or a parent trying to balance work and family, this planner will help you organize your busy life with ease.
FAQs about our 2024-25 Academic Year Mini Weekly Planners
Is the mini-weekly planner suitable for students with a packed schedule?
Yes, despite its compact size, our mini academic year planner is designed to cater to even the busiest schedules. With clear sections for daily to-do's, top priorities, and detailed weekly overviews, you can manage your time effectively.
How durable is the planner, considering it's meant to be carried around?
Our mini planners come with a durable glossy hardcover and robust binding. These features, coupled with tear-out pages at the front and back to protect the inner pages, ensure longevity and resilience.
I'm not a student. Can I still benefit from this planner?
Absolutely! While it's tailored for the academic year, the functional features of the mini-weekly planner make it an excellent choice for professionals, parents, or anyone seeking a structured approach to their year.
What makes this planner different from others in the market?
Our 2024-25 Academic Year Mini Weekly Planner stands out for its blend of practicality and aesthetics. Beyond the fundamental planning tools, it offers features like goal-setting worksheets, weekly inspirational quotes, and two gold foil sticker sheets, adding value and motivation to your planning routine.
Does the planner come with any additional resources or tools?
Yes! It includes a bookmark ruler and inside front cover pocket for added functionality, with additional tabs with non-dated planning pages for flexibility.
Learn More About Planning: